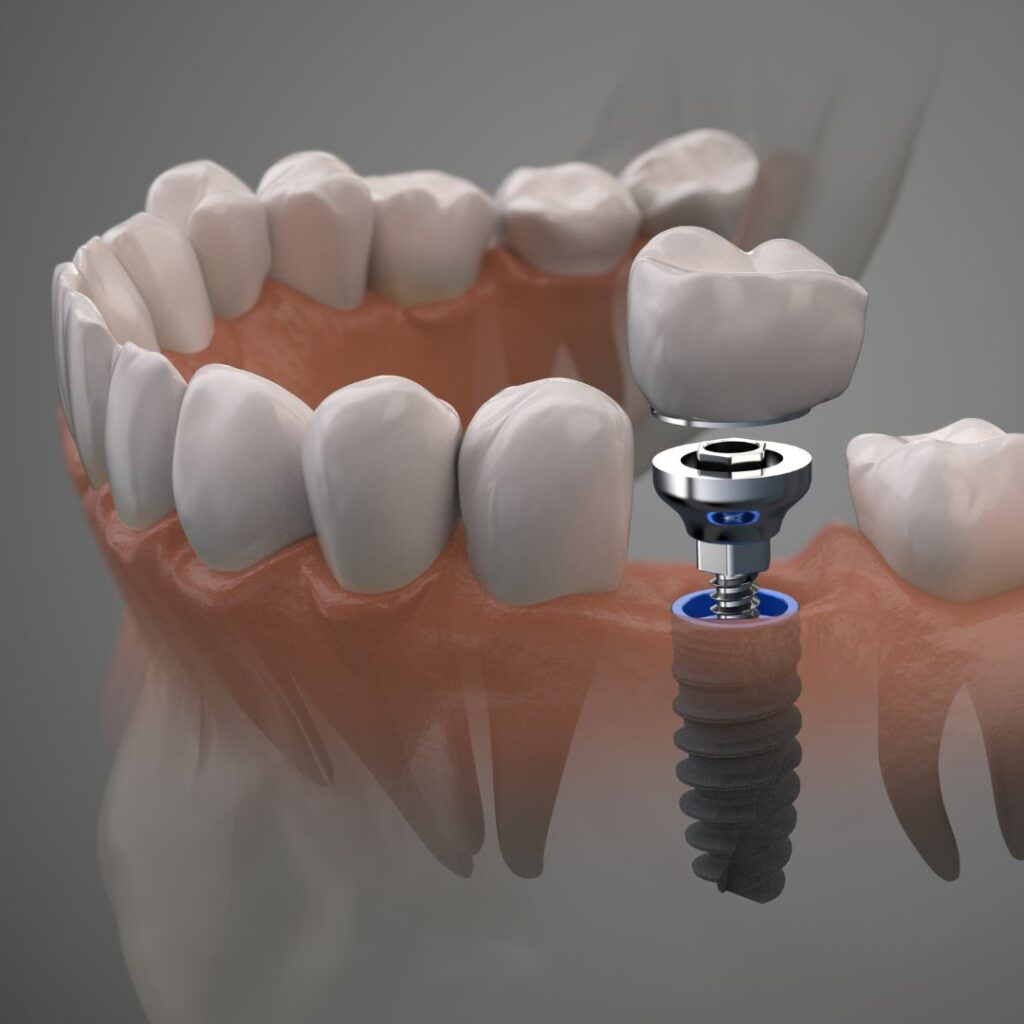 Single Tooth Replacement
Restore Your Smile
A long-lasting choice, implant-supported dentistry brings you as close to growing new teeth as possible. Expertly placed in the same bone that once supported teeth, you'll often enjoy the strength and function of nature.
An implant is a new tooth made of metal and porcelain that looks just like your natural tooth. It's composed of two main parts: one part is the titanium implant body that takes the place of the missing root, and the second part is the tooth-colored crown that is cemented on top of the implant. 
A custom road map for your return to full dental function when incorporating implants must guide the way. Dr. Homsi calls upon the best technology available to help plan your restorative case. Digital x-rays, 3D mapping, models, photographs and case guides prove valuable. Dr. Homsi uses highly regarded specialists as needed to bring the components of your case together. But at all times he serves as the quarterback of the entire plan.
Dental Implants
A Smile That Lasts Forever
Even with all the benefits, the cost of dental implant procedures is an important consideration. When your case brings together the latest imaging, advanced training, and unique material technologies, this service offers one of the best values in modern health care. Compared to the replacement of other hard structures and joints of the body, most services with dental implants can be done at a small fraction of those costs. Better yet, most patients carry on with normal activities right away and usually enjoy a lifetime of normal chewing, bite stability, and appearance. But we know the cost of dental implants is an important part of creating a complete plan that works for you.
The cost of dental implant services involves several critical factors unique to each patient. A fee quoted without careful evaluation doesn't consider what's best for your mouth. And comparisons may not account for the difference in the quality of materials used, along with the training of the doctor performing this highly technical service. Dr. Homsi customizes treatment planning after he has spent time analyzing what would be best for each one.
One thing remains absolutely certain: You'll get the highest value possible in modern implant dentistry. That means years of natural function and a smile that's secure and makes you proud to show. We look forward to discussing how we can partner together for the best solution for you!
Our Friendly Dental Care team is committed to providing the very best in dental care in the Aberdeen, NJ area. Please take a moment to read our reviews. 
Everyone here is amazing especially Ms Gail! So good with my teen I was blown away by her patience. Who knew the dentist could be fun! The dentists are so professional and really good with kids.
We've been using Friendly Dental for years and I cannot say enough. I brought my kids here since they were toddlers, and we all love the staff! From the front desk to the hygienists to the dentists, there's no comparison.
We have been patients at Friendly Dental for over 13 years. The doctors, hygienists and office staff are extremely professional, competent, kind and compassionate. We know that we are in excellent hands. We highly recommend!
I've been going to Friendly Dental since I was in elementary school- the staff is amazing. Dr. Homsi and Dr. Gomez are very attentive to their patients needs. Any patient can tell that they take great pride in running their practice. Would recommend Friendly Dental to anyone in the central jersey area .
Extremely satisfying patient, the place was very clean, the staff immediately greeted me as I walked into a nice waiting area. A simple cleaning but was educated in so much more about my teeth. Highly recommend
I've been coming to Friendly Dental for over 10 years. The staff truly is friendly and very thorough when it comes to any dental issues. As a kid, I dreaded going to the dentist. Ever since coming to Friendly Dental, I look forward to my visits. Gail and Jeanne are fantastic hygienists!